Florida Pro-lifers Protest Weitz' West Palm Beach Homes
On Thursday, January 31, Florida pro-lifers begin home protests of Weitz executives and we will conduct home protests of Weitz clients as contact information becomes available.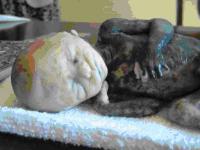 The Weitz Company is building an abortion mill in Denver Colorado. Weitz, a billion dollar firm, has joined forces with Planned Parenthood and together they are attempting to build an abortion superstore in Denver. Planned Parenthood operates the largest abortion chain in the nation with 287 surgical and medical abortion facilities.
The pro life community in Colorado is determined to persuade Weitz to quit building the abortuary. Weitz will gain permanent collaborator status on January 31, 2008 at midnight. See CollaboratorsProject.com for more details.
We Florida pro lifers are appalled by the actions of The Weitz Company and we commit to honor permanent collaborator status if designated by the Collaborators Project against Weitz. These construction executives residing in Florida, and their clients' homes, will be subject to residential protests until Planned Parenthood quits killing children in the Denver Weitz building.
Leonard Martling, Weitz FL President
13287 Doubletree Circle
Wellington FL
Gary Hennings, 561 795-2413
1140 Northumberland Ct
Wellington FL
Silvana Benavides
6499 7th Avenue
Boca Raton FL
Marie Salt
2401 SW Estella Terrace
Palm City FL
Taras Diakiwski
4808 North State Road 7 #208
Coral Springs FL
Weitz Florida HQ
1720 Center Park Drive East
West Palm Beach FL
561 686-5511
The Reverend Flip Benham of Operation Rescue/Operation save America said, "Weitz has set itself up as the hub, and its clients as the spokes, of a national collaborators project that will continue for as many years as Planned Parenthood is killing children in the building prepared by Weitz." We thank the Rev. Benham for his leadership and we will do our part in Florida to ensure:
"No Child Killing with Tranquility"
Contact: FLCollabProject@gmail.com