Super Bowl Party at Weitz Exec's Home a Success!
The Collaborators Project drew a crowd of 50 people at the home of Gary Meggison, the Senior VP of The Weitz Company Rocky Mountain. This gathering marked the first event since The Weitz Co. obtained Permanent Collaborator Status for failing to stop constructing America's largest abortion facility. Pro-lifers from all over the state of Colorado showed their persistence and dedication to protecting the unborn by increasing the social tension that has all but disappeared in this country, despite the slaughter of thousands of innocent babies each day. The time of food, fun and fellowship was topped off with excellent hot dogs, brats and even buffalo dogs. One pro-lifer, Grandma Connie, brought spinach stromboli and eggplant parmesan. The pro-lifers considered this one of the best Super Bowl parties they have ever attended, and of course, all for a good cause.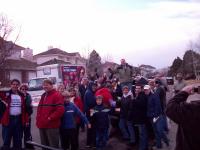 As reported at YourHub.com for Lakewood Colorado:
"On Sunday February 3, 2008 the Pro Life Group held a SuperBowl Block Party in front of the Meggison home. They had about 50 people show up. They listened to the football game and had a barbecue in the back of a pickup truck serving hamburgers and hot dogs and all of the trimmings. Their motto is "NO CHILD KILLING IN TRANQUILITY" and to that end they have protested in front of several of the Weitz Company executives and they plan on continuing the strategy indefinitely. The 24 year old, Will Duffy, has stated that he has dedicated his life to eliminating abortion in the United States."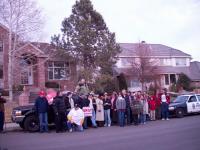 Watch for the print edition of the Rocky Mountain News this Thursday, Feb. 7th, for a story about the Collaborators Project Super Bowl Party!
See original press release.